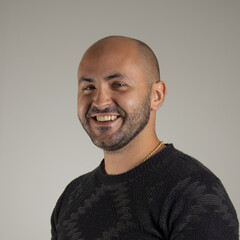 Dustin Aber
Digital Artist
Winston-Salem, United States
About
Digital artist with a traditional art background. Seven years of entertainment industry experience with credits on two shipped console titles, six shipped Flash/Social/Web games, and over a half-dozen other internal or confidential projects. Specialization in game art using Maya, 3DS Max, ZBrush, Substance, and UE4. Seven years of experience in higher education.
Skills
Digital Sculpting
Sculpting
3D Modeling
Environment Modeling
Character Modeling
PBR Texturing
Texturing
Texture Baking
Lighting
Shaders
Physically Based Rendering
Anatomy
Software proficiency

Maya

3ds Max

ZBrush

Substance 3D Painter
Unreal Engine

SketchUp

Marmoset Toolbag

Photoshop

xNormal

Substance 3D Sampler

Substance B2M

Mudbox

Softimage

Metashape
Marvelous Designer

Quixel Suite
NDO

After Effects

CrazyBump

ArtRage
Productions
Commercial / Advertisement

Pandora: ROVR

Year

2010

Role

3D Artist / Technical Artist

Company

Multiverse Network

Video Game

Spider-Man 3

Year

2007

Role

2D/3D Artist

Company

Vicarious Visions

Video Game

Cars

Year

2006

Role

QA

Company

Locomotive Games
Experience
- EFish Games (Weapon and environment assets and animations for an upcoming VR game)

- Mediaworks for the Hungarian-American Chamber of Commerce, Texas (Managed the art team, technical art, and support animation)

- Shadow Squirrel Games (3D Character Modeling for Wanted Earth, a 3D printed sci-fi strategy board game)

- Industrial Light and Magic/Lucasfilm (Taught a 3-day workshop)

- nth Degree Design and Visual Effects Inc. (Vehicle asset creation for Disney: Test Track at EPCOT for Walt Disney Imagineering)

- Project X Productions (Modeled stylized 3D portraits for Driven short film)

- Teach modeling and texturing courses for the Graduate and Undergraduate School of Game Development.

- Developed multiple online courses related to the topics of Environment Art, Texturing and Lighting, and Hard Surface Modeling. Courses included text, images, video content, and example materials.

- Modeled, textured, and lit environments and vehicles for Pandora: ROVR, Warbase, Multiverse: Places/Virtual Times Square, a real-time Flash online ARPG series (Battle, Team Battle, Battle: Realms at War) and other unannounced multiplayer/MMO projects.

- UI element creation, effects, animation, and technical art tasks. Provided technical art developer support for internal and external teams.

On Spider-Man 3:The Game (PS2/Wii):

- Modeled, textured, and lit environments and assets.

- Converted existing art assets for use on target platforms.

- Modeled and lit environments, lit characters, and created effects for rendered cutscenes.

- Previsualization environment design for Marvel: Ultimate Alliance 2 (Wii)

Worked directly with the engineering team and reported to the executive producer to ensure that the game was delivered to the highest standard of quality.